Let the Chamoli disaster be the final wake up call for our government
Coalition For Environmental Justice In India(CEJI) Statement, 10 February, 2021
On the morning of 7 February 2021, a massive flood crashed down the Rishiganga and Dhauliganga, headstreams of the Alaknanda, a major tributary of the Ganga, that flows through Chamoli district, Uttarakhand. Expert opinion is still divided about what caused this flash flood that emerged in the upper reaches of the Nanda Devi range. This catastrophic event washed away the 13.2MW Rishiganga Hydroelectric Project situated near Raini village, the birthplace of the Chipko movement. As boulders, ice, water and muck surged downstream, it substantially damaged the National Thermal Power Corporation's 520 MW Tapovan-Vishnugad Hydropower Project being built across the Dhauliganga, and other hydroelectric projects, the extent of damage to which will only become clear with time.
Up until now, it is reported that at least 32 people have been confirmed dead and over 170 are missing. Most casualties are of workers at the two power projects and Raini village.

The ecologically fragile and geologically active mountainous state of Uttarakhand, as also such other states across the Himalayas, are being intensely transformed by a variety of infrastructural projects. These include widening of existing roads, building new ones, expansion of urban settlements, advancing mass tourism projects, extensive mining of sand and boulders, forest felling and the aggressive promotion of a variety of hydroelectric power projects. As a consequence, this mountain range is being hollowed out in many sections, and substantially distubed across extensive ranges. The steep slopes of Himalayas are being de-vegetated as a result, increasing the frequency of and magnifying the intensity of landslides.
All this is taking place in the name of development promoted by expedient politics, disregarding the fact that this is among the most earthquake-prone and ecologically sensitive regions of the world. In fact, the Himalayas are even termed as the "third pole" of the planet, and their protection is as significant as that of the Arctic and the Antarctic.
The Chamoli avalanche flood is starkly reminiscent of the Uttarakhand flood of 2013 and is a strong indicator of the impending high risks associated with reckless development of such fragile mountainous regions. This event highlights the harsh truth of how little the Government of India and various regional Himalayan states are focussing attention on appreciating the fragility of this range. There will be wide-ranging political arguments claiming it to be a natural disaster, but it is anything but that.
---
Uttarakhand's frequent disasters have caused extensive damage to existing hydroelectric projects
[1]. However, the government is wilfully blind to such risks and continues to actively promote massive enhancement of hydroelectric capacity. According to a Supreme Court-supervised study conducted in 2013-14, Uttarakhand already has 92 hydroelectric projects, and 38 more are being built in the state. Further, 37 projects are in different stages of getting clearances. A whopping 450 dams of differing capacities have been identified to tap the 'total hydropower potential' of the state, which is claimed to be a gigantic 27,000 MW
[2]. If such visions of "development" are realized, the Indian Himalayas will be one of the most dammed- and most submerged- regions of the world, with a dam for every 32 km of rivers' stretch on average
[3].The people of Uttarakhand have been struggling for decades against big dams (such as the Tehri Dam), against so-called run-of-the-river schemes (Tapovan-Vishnugad project is one such), and other forms of extractive development (such as limestone mining and the Char Dham highway). The state is also the site of the incredible Chipko movement that inspired the world to protect forests and mountains. The veteran environmental regulator-turned-activist Prof. G D Agarwal was so troubled by the scale of planned devastation of the Himalayas, that he chose to draw the attention of Prime Minister Narendra Modi by launching a fast-unto-death. Agarwal ji died after 111 days of fasting and not one of his pleas was attended to.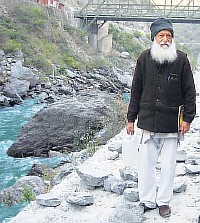 Notwithstanding such popular resistance to destructive development, administration after administration has promoted projects that destabilize this fragile region, employing repressive measures to quell people's resistance. Despite widespread resistance to the 5040 MW Pancheshwar Dam in Pithoragarh, the Government of Uttarakhand continues to transport construction material to build this mega-dam, without caring about the fact that hundreds of villages and large expanses of forests will be submerged. In addition, buoyed by the support extended by Prime Minister Narendra Modi, a 900 km-long Char Dham highway project is being built across Uttarakhand by the Ministry of Road Transport and Highways. Not a thought is being spared for the massive disasters that are likely to follow.
In all such projects, people have highlighted the crucial importance of socially inclusive and ecologically wise decision making. The Government of India has responded to this, particularly in recent years, by systematically diluting environmental norms and regulatory standards. The purported intention of rushing through clearances for such projects is that they would bring unprecedented development across the mountains.
The fundamental and comprehensive weakening of the critical Environmental Impact Assessment Notification has made the regulation a mere smokescreen for claiming environmental compliance of highly destructive projects. The Char Dham highway project, for instance, was deliberately split up into 53 components in order to escape a regulatory standard that would have forced the entire project to be subordinated to public involvement in its environmental clearance decision making. In addition to such attempts to undermine democratic decision making, environmental review committees are packed with pro-dam, pro-road "expert" members, who typically are ex-bureaucrats who promoted such projects while in administration.
It is well documented that Himalayan glaciers and ice caps are melting rapidly as a consequence of global warming. It is clear that the Chamoli disaster originated in a high altitude area with snow clad mountains, glaciers and glacier lakes in Nandadevi Biosphere reserve. While the exact reason will be established eventually, it is critical to note that the government of the time is hubristically promoting destructive development for its narrow and short-term political gains. Shockingly, it is immune to learning lessons from the 2013 disaster. This when governance responses are required to focus on tackling climate change and creating water and ecological security – not destroying it through dams that choke off our rivers. Ironically, all these destructive hydro projects are being promoted as renewable energy sources, all to get climate action brownie points on the global stage. Notably, the Rishiganga dam was cleared to claim 'carbon credits' under the Clean Development Mechanism of the United Nations

[4]. All things considered, the Uttarakhand and Indian governments need to work immediately with highly vulnerable mountain communities to minimize risks associated with rapid melting of glaciers, extreme weather events and the cascading impact of ill-thought and poorly designed infrastructure. It is high time that ecological, technical and financial feasibility of dams, highway development, and other such projects, is reevaluated. This particularly given the fact that the entire region is seismically active. Governments also need to work with people in advancing a decentralized, ecologically sensitive and culturally appropriate paradigm of development that results in livelihood enhancement, energy and food security, and building such local infrastructure that will truly help Himalayan villages and towns to become self-reliant and thriving settlements. The Himalayas provide crucial ecosystem services, and the entire north Indian plains are crucially dependent on them. To reduce this amazing mountain range to being a mere exporter of power is a sure way of destroying its ecosystem functions.
---
We are now running out of time to correct our course. But it is not too late to take swift and decisive action to recalibrate and integrate developmental priorities into socially inclusive and ecologically wise paradigms.
To this end, we call on the Indian and Uttarakhand government to take the following steps:
1) Suspend construction of existing projects and approvals for new projects for hydroelectric projects and road-building including Char Dham Highway;
2) Scrap the damaged Rishiganga and Tapovan Vishnugad HEPs;
3) Make basin-wide Cumulative Impact Assessments by credible independent agencies like BNHS a prerequisite where there is a cascade of projects;
4) Prohibit approval of projects of any size that are within 100 km of any glaciers, and suspend existing approvals for any such project till the current and future status of glaciers and the impact of construction and climate change is established;
5) Revoke the exemption from forest and environmental clearance given to strategic road projects falling within 100 km aerial distance from the Line of Actual Control
6) Fully implement Article 243ZD of the Indian Constitution, which mandates the preparation of developmental plans by District Planning Committees in regard to "matters of common interest between Panchayats and Municipalities including spatial planning, sharing of water and other physical and natural resources, the integrated development of infrastructure and environmental conservation";
7) Fully implement the provisions of the Forest Rights Act, 2006 and the Biological Diversity Act, 2002 to ensure community oversight and protection of forests and biodiversity is ensured;
8) Fully comply with the recommendations given by the Expert Body headed by Dr. Ravi Chopra, constituted by the Hon'ble Supreme Court vide judgment dated 13.08.2013 in Alaknanda Hydro Power Co. Ltd. v. Anuj Joshi (Civil Appeal No. 6736 of 2013) for the assessment of environmental degradation and the impact of hydroelectric projects during the June 2013 Disaster in Uttarakhand; and
9) Institute an independent commission to assess the disaster and lessons that we need to learn from it and also identify the causes and players responsible for lapses.
---
The future of the Himalayas determines the future of India. Let the Chamoli disaster be the final wake up call for our government.
---
Signed
Medha Patkar, Narmada Bachao Andolan
Tani Alex, Researcher, New Delhi
Gautam Mody, New Trade Union Initiative
Ashish Kothari, Kalpavriksh, Pune
Aruna Rodrigues, Mhow, Madhya Pradesh
K Ramnarayan, Ecologist & Educator, Uttarakhand
Ajay Tannirkulam
Tara Murali, Architect, Chennai
Major General SG Vombatkere (Retd.), Mysuru
Nityanand Jayaraman, Writer/social activist, Chennai
Meena Subramaniam, Nature artist
Dharmesh Shah, Public Policy Researcher and Activist, Kerala
Himanshu Thakkar, South Asia Network on Dams, River and People, Delhi
Narasimha Reddy Donthi, Joint Action for Water
Sowmya Dutta, MAUSAM
Ranjan Panda, Mahanadi River Waterkeeper
Joe Athialy, Center for Financial Accountability
Shalmali Guttal, Focus on the Global South
Meera Sanghamitra, National Alliance for People's Movements
Ravindranath, River Basin Friends
Jesu Rethinam, Coastal Action Network
Madhuresh Kumar, National Alliance for People's Movements
Rajendran Prabhakar, Nagar Vanchita Vedike
Om Prakash Singh, Researcher, Chennai
Himshi Singh, Prakash Bhandari, and Sumit Mahar, Himdhara Environment Research and Action Collective
Rachna Dhingra, Bhopal Group for Information and Action
Niraj Bhatt, Life Science Researcher, Chennai
Mohini, People's Resource Center
Shibu KN, Environmental Activist, Kerala
Aditi Chanchani, Bangalore
T Mohan and Devika, Advocates, Chennai
Linda Chhakchhuak, concerned citizen, Meghalaya
Jagannath Chatterjee, Bhuvaneshwar
Priyadarshini, Researcher, Delhi
Piyush Manush, Citizens Forum
Prasant Paikray, Spokesperson, PPSS, Anti Jindal and Anti Posco Movement, Odisha
Ram Wangkheirakpam, Indigenous Perspectives & Ngamee Lup, Manipur
Leo Saldanha and Bhargavi Rao, Environment Support Group, Bangalore
Sana Huque, Shrestha Chowdhury, Satvika Krishnan, Malvika Kaushik, Ayush Joshi, Karthik Anjanappa and Ashwin Lobo, Research Associates, Environment Support Group
Afsar Jafri, Social Activist
Manjunath H, School of Natural Farming, Tumkur
Yash Marwah, Let India Breathe, Mumbai
Surendranath C, Uravu, Wayanad
Simar Kohli, Lifetide
Teachers against the climate crisis
Magline P
---
---
References:
[1] South Asia Network on Dams, Rivers and People, "Uttarakhand Hydropower: No lessons learnt from June 2013 disaster", October 5, 2014.
[2] "2014 Assessment of Environmental Degradation and Impact of Hydroelectric projects during the June 2013 Disaster in Uttarakhand", April 2014, Report of the Expert Body constituted on the directions issued by the Hon'ble Supreme Court vide judgment dated 13.08.2013 in Alaknanda Hydro Power Co. Ltd. v. Anuj Joshi (Civil Appeal No. 6736 of 2013)
[3] R. Edward Grumbine and Maharaj K. Pandit, "Threats from India's Himalaya Dams", Science, Volume 339, pp. 36-37 (2013).
[4] Clean Development Mechanism, United Nations Framework Convention on Climate Change, Project 7625: Rishiganga Hydroelectric Project (RGHEP), India, available at https://cdm.unfccc.int/Projects/DB/RWTUV1349684657.11/view
---