'Undeclared Emergency': A conversation on the occasion of Republic Day
"Analytically sharp and empirically robust, Arvind Narrain's 'Undeclared Emergency … ' throws a sharp focus on the punitive nature of the legal regime, the criminalisation of dissent and the power exercised by the mob in contemporary India. All those who care for the future of our Republic should read this book".
—Ramachandra Guha, Historian
Discussants
Arvind Narrain is a lawyer and writer based in Bangalore. He is a founding member of the Alternative Law Forum, a collective of lawyers based in Bangalore. He is a visiting faculty at the School of Policy and Governance, Azim Premji University. He is also currently pursuing his PHD at the National Law School of India University in which he is looking at the legal and political thought of Babasaheb Ambedkar. He is the co-editor of Law like Love: Queer perspectives on Law and Co-author of Breathing Life into the Constitution: Human Rights Lawyering in India and The Preamble: A brief Introduction. He was part of the team of lawyers that challenged Section 377 of the IPC right from the High Court in 2009 to the Supreme Court in 2018. Arvind has recently authored "India's Undeclared Emergency: Constitutionalism and the Politics of Resistance".
Ramachandra Guha is a historian and biographer based in Bengaluru. His books include a pioneering environmental history, The Unquiet Woods (University of California Press, 1989), and an award-winning social history of cricket, A Corner of a Foreign Field (Picador, 2002), which was chosen by The Guardian as one of the ten best books on cricket ever written. India after Gandhi (Macmillan/Ecco Press, 2007; revised edition, 2017) was chosen as a book of the year by the Economist, the Washington Post, and the Wall Street Journal, and as a book of the decade in the Times of London and The Hindu.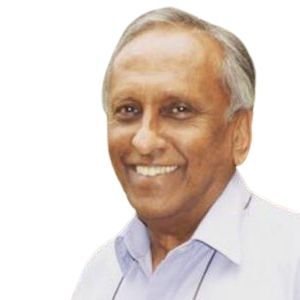 Prof. Babu Mathew is former Registrar and faculty at NLSIU. He was also part of the Trade Union movement and various other social movements taking up issues of bonded labour, child labour, displacement and destruction of the livelihoods of the marginalised.He combined the teaching and practice of Human Rights and during the last six years he served as Country Director of Action Aid International in India. In this capacity he was in charge of evolving a 'Rights Based' policy and implementing a Human Rights agenda with special focus on Economic Social and Cultural Rights in 25 states of India. He led the process of presenting a Shadow Report focusing on the excluded communities of India before the relevant UN Committee in Geneva.
An independent activist- (re)searcher and very occasional film-maker, Madhu Bhushan has earlier worked with the CIEDS Collective and Vimochana for more than three decades till 2014. She has been involved with crisis intervention, community outreach, campaigns and advocacy with a focus on rural and tribal communities. Currently associated with Gamana Mahila Samuha, a feminist collective she is also engaged with various networks and organisations working on human rights and social justice including rights of sex workers, trans communities and adivasis.